Welcome to the SaddleBrooke Ranch Horseback Riding Group
About the Horseback Riding Group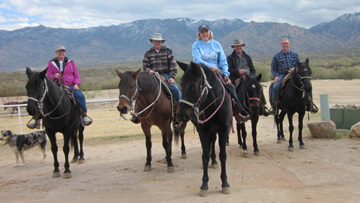 The Horseback Riding Group is for those who would like to see the Tucson area's most beautiful landscapes without having to walk it themselves. We take trail rides at a variety of local stables. The rides are at a walk, just to enjoy the beautiful scenery with other horse loving friends.
Rides are set up monthly from September through April and are typically suitable for beginners.
There is no obligation to attend all the rides offered. Riders simply let the secretary know if they want to attend a particular ride by clicking the "Contact Us" section below and filling in the information Be sure to include the date or name of the ride. Car pools are generally arranged for those interested.
About Ride Planning
Suggested rides for the month are posted on the news feed on this website page.
Those interested in going respond back. Each month's trail boss collects the names, arranges with the stable for the number of riders planning to attend, and coordinates car pools for more distant stables. The rides are usually on Saturday morning for one hour and typically cost around $45-$60. Guests may be included after all Ranch residents are accommodated.
The rides are usually on trails that meander through State or National Parks in the area and each stable has something unique and interesting to offer.
About Experience
No experience is necessary. All rides are at a walk. Horses are mounted from a mounting block, but reasonable fitness is assumed to swing a leg over. Long pants and closed toe shoes are required. Cameras and cell phones are sometimes not permitted. Water bottles are usually allowed.
There are some stables which offer longer rides for more experienced equestrians and occasionally there will be rides set up for those interested.
Recommended Stables
If you are interested in riding on your own, check out these stables that have provided a good experience for our group in the past:
SE Tucson, also sometimes Catalina State Park – Rockin' K Ranch (520) 490-5706 Chris is the head wrangler, 13401 E Spanish Trail. Usually will meet you at a trailhead. Does a Sunset Ride in Saquaro East Natl Park.
Tucson Mountain Stables, (520) 310-2001 "Bob" Anderson On the White Stallion Ranch property. Take White Stallion Ranch Road in Marana. Do Not follow directions online as they will take you to the house some miles away.
Westward Look Stables – 245 E Ina Road (520) 631- 3787 Although in an urban setting, this ride is through the foothills of the Catalinas and is a very pleasant ride. Great location and near by. They also offer rides at other locations SE of Tucson. Bring your own helmet, (bike, motorcycle, other) or get one at the stable.
Donnelly's D Spur in Gold Canyon - 15371 E Ojo in Gold Canyon. (602) 810-7029 This ride is in the Superstition Mountains east of Phoenix. Great ride, lovely people. Worth the drive. Take Hwy 79 through Florence to Hwy 60. Turn right at first stoplight at Peralta Road.
-->
Contact Us
If you want to confirm participation in a ride, please fill in the information below. Please indicate the ride 'title' or ride date in "Subject". If you have any problems or questions, contact Rebecca Williams, by phone at (520) 825-2466 or by using this Contact form.
Our News
Posted: 14 Jan 2023
Horse Chat being started by Leslie Gordon
Leslie Gordon is a long time horse owner and resident currently taking lessons at a stable down by Catalina State Park.
Leslie would like to start a social time at the Bistro with other horse loving folk to talk about their past involvement and share current lesson opportunities.
You can reach Les ... read RSS feed item.
Posted: 14 Jan 2023
Ride on Saturday, February 11th, down the Pantano Wash, about 75 minute drive
Our ride on Saturday, February 11th will be at the Tanque Verde Wash. This venue is about 75 minutes from SBR. Very nice ride with great views of the Rincon Mountains. We have saddles reserved at either 9:30 AM or 11:30 AM so please state your choice of time. Cash preferred, credit accepted, $55 ... read RSS feed item.
Posted: 14 Jan 2023
Sunset Ride in Saguaro National Park on either Friday, March 10, or Saturday, March 11
I am posting the March ride early as I know this is popular and you will want to check your calendar. The Saguaro Nat'l Park trailhead is about a 75 minute drive from SBR. We have a maximum of 10 saddles on each evening, Friday, March 10 or Saturday, March 11. The ride is $65, cash preferred, ... read RSS feed item.